Master Plan
Treasure Bay Bintan is a 338-hectare waterfront resort integrating wellness, leisure, cultural, residential and commercial activities.
Facts and figures about Treasure Bay Bintan
Gateway to 3,200 islands in Kepri
Total project development is 338 hectares, equivalent to 470 football fields
Chill Cove: Designated 'happening' spot to celebrate the beach lifestyle, along with a cluster of resorts, F&B, and retail outlets
Crystal Lagoon: South-East Asia's largest recreational sea-water lagoon (6.3 hectares) equivalent to 50 Olympic-sized swimming pools
Marine Life Discovery Park: Scheduled to open in 4th quarter 2019. Spans 3.5 hectares. It will offer guests a first-hand experience to swim with over 70 species of marine life
Organic Farm: Objective is to provide organic produce for TBB's developments. The show-plot has over 80 species of produce. The show-plot farm has achieved the IFOAM accreditation as of October 2018. IFOAM stands for International Federation of Agriculture Movement.   The certification by IFOAM is important as this means that TBB organic farm's produce has attained EU organic standards
Approximately an-hour ferry ride from Singapore
45-minute car ride from existing Kijang Airport, Bintan, Indonesia
Chiva Som Bintan: Asia's first internationally acclaimed health resort which will feature a 71-room wellness hotel, and a wellness center and 34 luxury villas.  which are now open for sale
Natra Bintan: Managed by Tribute Portfolio.  Combines the best of camping in nature with the luxury of a hotel room for the ultimate 'glamping' experience
The Anmon: 100 deluxe glamping tents that blend comfort and style for the authentic desert glamping experience.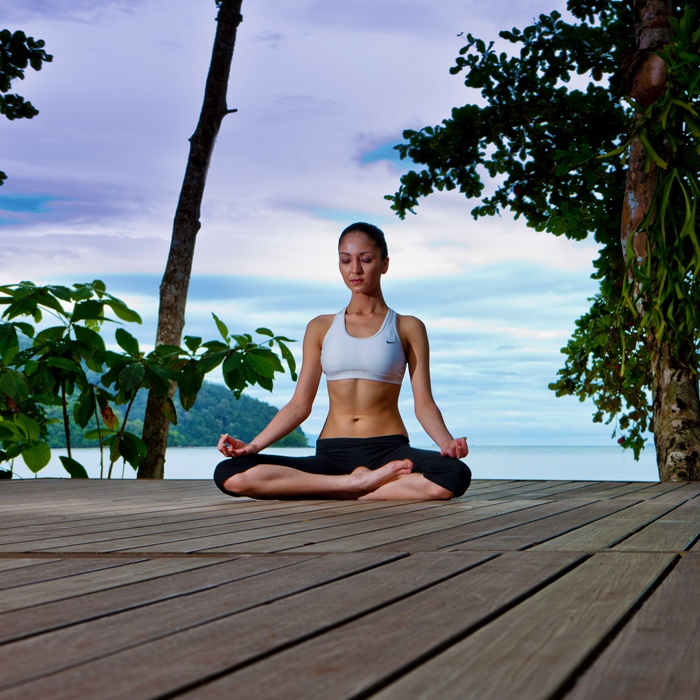 Chiva - Som Bintan
Seeking to inspire and empower people to achieve wellness and longevity, we bring you Chiva-Som, a multi-award luxury health retreat operator will be the key catalyst development of Treasure Bay.  Chiva-Som offers a holistic approach to health that incorporates mind, body, and spirit by combining international standards with Thai hospitality to deliver personal wellness programmes in a non-regimented way. Luxury villas are now open for sale.
Fast Fact
World's Best Spa Resort 2016 by Conde Nast travel magazine
Designed by Jean-Michel Gathy from Denniston, a world renowned architect who has designed many top notch resorts in the world
71 room wellness hotel
34 Luxury Villas
A Wellness Center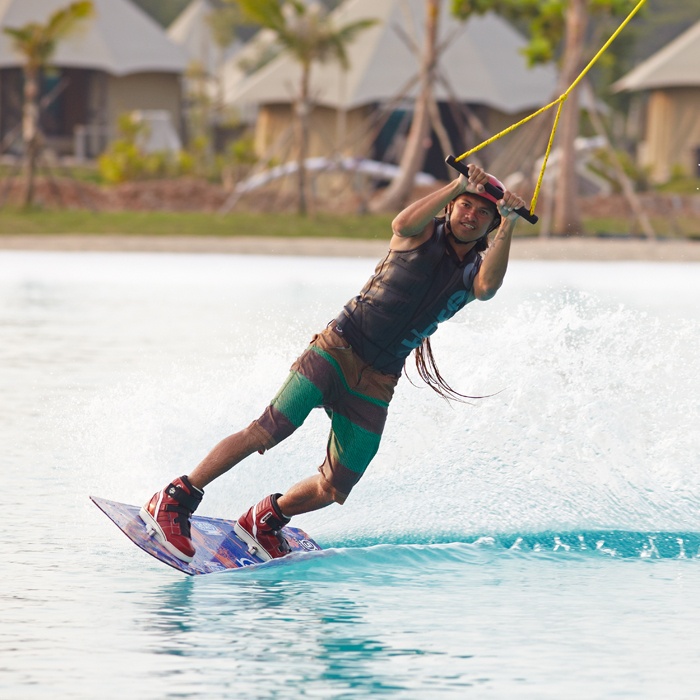 Crystal Lagoon
The 6.3 hectare Crystal Lagoon in Treasure Bay Bintan is South East Asia's first and largest recreational sea-water body that has undergone a process to make the sea-water "crystal clear". Besides being a
visual feast, it is an interactive pool of water sports, attractions and entertainment.  Even during the monsoon season, the lagoon is safe and perfectly swimmer-friendly and offers an alternative for those
who fear the rough sea or strong currents, rocks, jellyfish, or dark sand beaches.  The lagoon offers a wide range of recreational and interactive water activities suitable for the whole family such as swimming, kayaking, paddle boarding and sailing.
Fast Facts and figures about Crystal Lagoon
6.3 hectare (115,060m3 or 115,060,000 liters of water)
1st  and largest sea water Lagoon in South East Asia
2 Filters
Eco-Friendly technology, uses approximately 100 times less chemical products then conventional swimming pools
800 meters from one end to another (surface area is equivalent to 50 Olympic sized swimming pool)
2.5 meters deep, it is a gradual slope
Patented and available in 160 countries
Energy efficient ,consumes only 2% of the energy needed by conventional filtration pools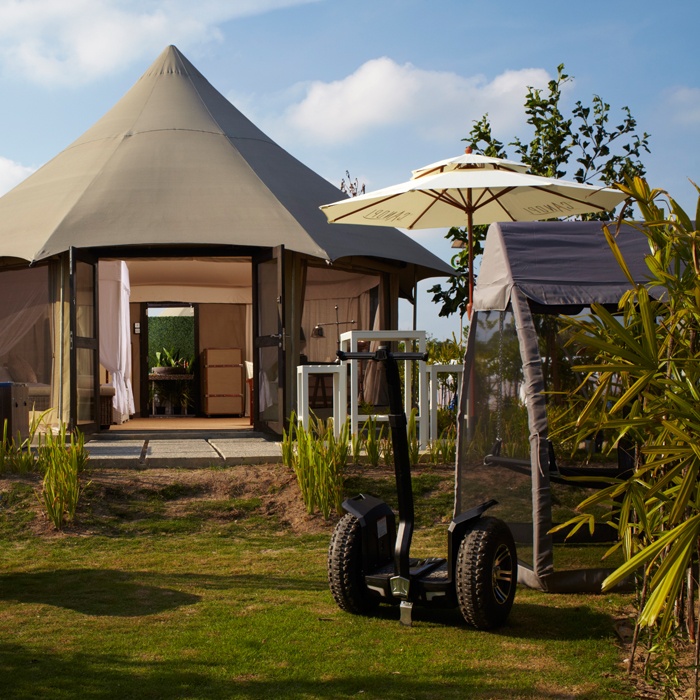 Natra Bintan
Introducing Natra Bintan, a glamorous camping site in the exotic tourism hub of Bintan Island, Indonesia's Riau Archipelago. Tribute Portfolio is Marriott International's newest collection brand and growing family of characterful independent hotels, bound by a passion for captivating design, vibrant social scenes and experiences that feel like the real deal.
After more than 4 years as The Canopi Bintan, a name which defines glamour camping, the launch of the resort's new identity as Natra Bintan is a significant milestone in leveraging on the evolution of the resort to more than just a glamping site, but to exceptional "nature travel" experiences perfect for leisurely family getaways, adventure seekers and corporate retreats. Natra will also offer guests a more "all inclusive" package infused with unique destination experiences, curated to allure to the world's traveler. These packages aspire to offer something for everyone from adventure, nature, pampering to culinary offerings, in line with the brand's vision to create moments that extend beyond the brochure to highlight the secret spots, must-sees and can't-miss independent design touches and experiences.
Natra, inspired by its Arabic origins equating happiness and tranquility, is a personification of the glamping experience that brings to life the concept of being one with nature. A total of 100 safari-themed tents are ready to welcome holiday-goers in the middle of pristine nature. Encompassing over 40 square meters, each tent is thoughtfully designed with modern style, and made complete with a lush garden and outdoor patio, four-poster bed and air-conditioning. Equipped with an LCD TV and Wi-Fi connection, these tents will keep guests connected with the world while reveling in extraordinary island life.
Situated within the idyllic Chill Cove at Treasure Bay, Bintan's premier leisure destination offers a stunning water lagoon and numerous pools from which to enjoy a wide range of water sports. Natra Bintan offers a one-of-a-kind glamping experience where remarkable adventure intertwines with lavish facilities. Natra sits directly on the Crystal Lagoon, Southeast Asia's first and largest man-made seawater lagoon, where guests can seamlessly enjoy enthralling water activities, including family-friendly bumper boat-rides, fun slides, and wakeboarding action.
"Tribute Portfolio invites guests to stay with character and the exciting opening of Natra Bintan gives travelers the opportunity to experience Bintan in a new and fun way, by being up close with nature," said Mike Fulkerson, Vice President, Brand & Marketing, Asia Pacific. "Being situated in the picturesque Chill Cove, this is the ideal place for a family's or couples' holiday."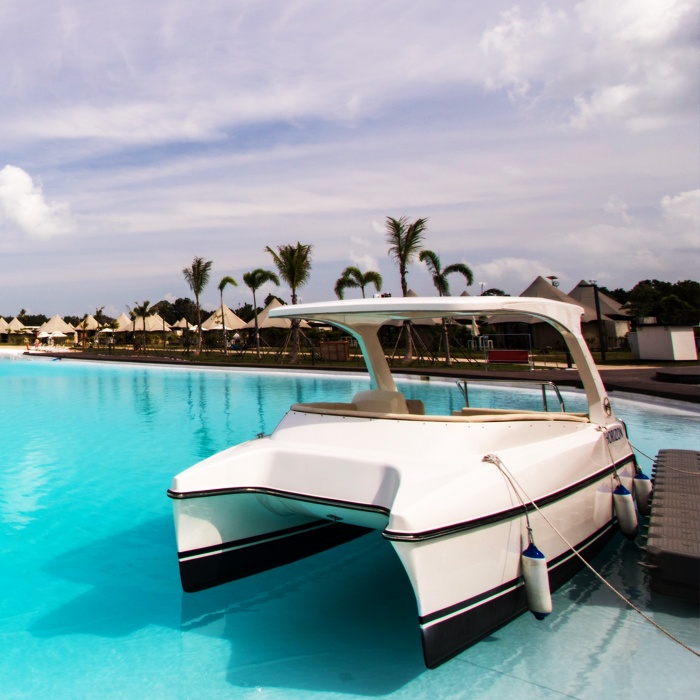 Chill Cove
Spanning over 90 hectares, Chill Cove at Treasure Bay Bintan is a vibrant, exhilarating social hub that surrounds 6.3-hectare Crystal Lagoon. The area is the designated 'happening' spot to celebrate beachside living and pulsating nightlife from sunrise to sunset suitable for the whole family.  Chill Cove also offers a versatile environment with abundant outdoor space and magnificent views to host memorable events from corporate team building, concerts, parties, seminars, product launches and weddings
Recreation and Activities 
Get tons of wholesome entertainment for kids to scale, cool down and have fun all day long 
Bouncy Castle Slide features a four-meter tower and Slide. Anchored to the ground for safety and stability kids can safely let loose Classic Car, Fun Buggy Ride, Electric Scooter - a great way to explore the area with the whole family
Solar Boat Tour a great way to explore Crystal Lagoon for those who don't want to get wet
Bumper Boat Add a splash of excitement as you race or bump your way across the water with the family
Water ZOVB is an experience of walking on water in an inflatable clear ball.
Stand-up Paddling - a safe water activity suitable for families of all ages. Each board holds two people
Water Tricycle is the perfect water activity for families to explore the entire Crystal Lagoon leisurely.
Airsoft Gun Designed to look just like a real firearm, enjoy hours of fun indoors, recreating military-style battles!
Get wet and wild with water challenges suitable for adrenaline junkies with a passion for thrills and fun.
Cable Ski Sesitec System 2.0 is perfect for beginners or advanced riders to experience the fun and thrill of wakeboarding without a boat as the two-tower system with a cable pulls riders from one tower to the other.
Jetovator: One of the most exciting aerial water activities, the Jetovator is a water sports accessory that redirects water thrust to propel and elevate riders into mid-air.
Slip and Slide This cushioned bumper ride adds a little creativity to the swim and fun for the whole family
Explore and engage with nature on ATVs (All Terrain Vehicles), UTVs, Electric Mini ATVs, etc. 
ATV Off-Road trains
UTV
Mini Electric ATV
Eco-Adventure
Observe the many species of wildlife and birds as you reconnect with nature and enjoy a quiet Kayak through the tranquil mangroves of Bintan.
Mangrove Tours - Experience the private mangrove reserve while cruising through exotic rainforest plants and wildlife by kayak as part of a guided tour by ATV or UTVs.
Floating Pontoon - Suitable for Groups to enjoy the mangrove and firefly experience or for couple floating picnic or a romantic dinner for two.
After Dark
Plenty more to do even when the sun goes down. Make a wish with Sky Lanterns, take the FireFly Tour at the mangrove or ride along in the night Electronic Scooter Tour. Celebrate with Fireworks or reconnect over a BBQ dinner. Advance booking is required for these activities.
Firefly tour Enjoy a truly enchanting experience while cruising through the clam mangrove river
Sky Lanterns
Bon Fire
Fireworks - a perfect way to celebrate special occasions such as proposals, anniversaries and birthdays
Night scooter tour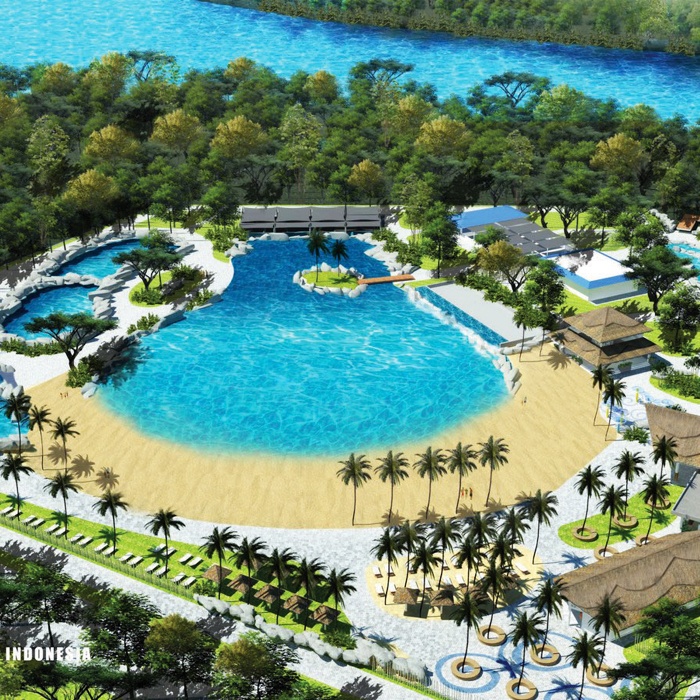 Marine Life Park
Opened on the 24th of October, 2019, Marine Life Discovery Park (MLDP) is a strategic project to complement the master development plan of Treasure Bay Bintan. 
The concept of MLDP is to showcase marine life species in a tropical habitat and to enable up-close interaction with this marine life in an open, yet safe and controlled immersive environment. Besides marine life, MLDP also exhibits other various wildlife such as birds, turtles, snakes and mangrove native flora and fauna to facilitate learning and appreciation of the ecosystem.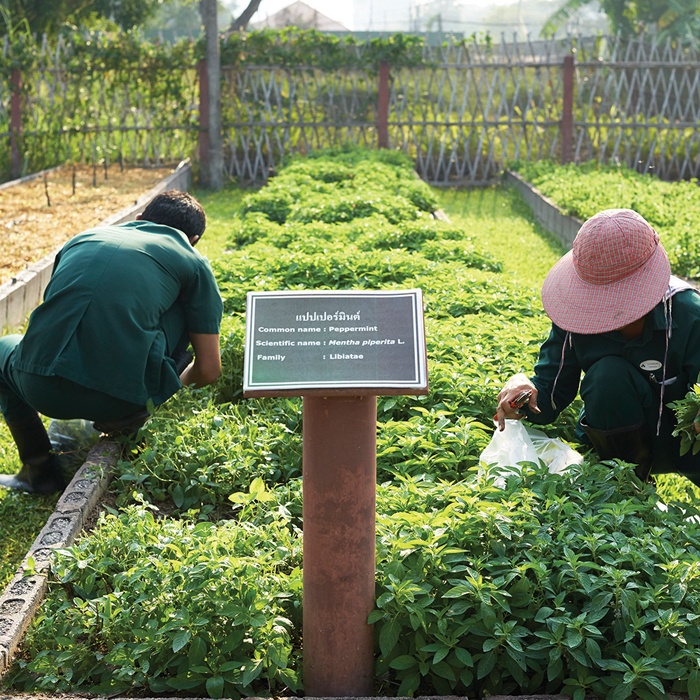 Organic Farming
Bintan is an idyllic location for organic farming. Located in a heaven of sunshine all year round, natural down flow stream from higher undeveloped forest land and free of industrial development - all of which naturally comply with Organic farming compliance. As part of the mission to integrate wellness along with operating in a sound, sustainable way, organic farming has been allocated in the near future. Here, visitors will learn and participate in organic farming and also enjoy "farm to table" dining options that will be available for consumption in Treasure Bay's living community. It will also provide a healthier eating option to guests and residents in Treasure Bay as it develops in phases.  Local herbs native to the tropical rainforest of Indonesia, which is hub of biodiversity or hundreds of species and tress will also be available for sale here with the aim of providing of opportunities for the local community.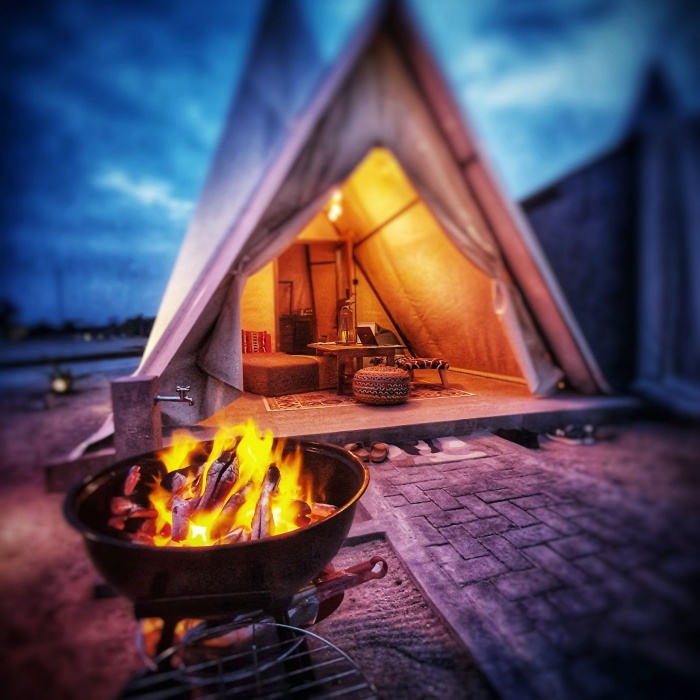 The Anmon
Glamping at The Anmon Resort Bintan: A New Nomadic Adventure
100 deluxe glamping tents await, each occupying a spacious 45 sqm. For in-room dining or relaxation, these luxurious air-conditioned tents blend comfort and style for the authentic desert glamping experience.
EACH DELUXE GLAMPING TENT INCLUDES:
BATHROOM Amenities with a focus on sustainability
BEDDING Customisable bedding for up to 5 guests
WIFI High speed internet for multiple devices
PATIO Furnished for in-room dining or relaxation
DIGITAL CONCIERGE 24-hour access to information and booking requests at your fingertips
FACILITIES:
TIPI BAR (OPENING SOON!: Revel in a delectable selection of cocktails at ANMON's very own Tipi Bar, specially curated by an award-winning mixologist from Singapore. Seating capacity: 100.
THE COMPASS ROSE (OPENING SOON!): Enjoy a sumptuous spread of fusion Mediterranean cuisine and local delights across our exclusive in-house menus for breakfast, lunch, and dinner. Seating capacity: 200.
CRYSTAL LAGOON: Enjoy complimentary access to the Crystal Lagoon, Asia's largest man-made seawater lagoon, and unwind with a wealth of activities such as kayaking and wakeboarding. Opening hours: 9:00am – 6:00pm
EVENTS AT ANMON: From birthdays to seminars and retreats, form unforgettable memories with our signature space for events.
THE OASIS (OPENING SOON!): Enjoy afternoon siestas and pool parties, or cosy up to poolside film screenings with our LED screen.
GETTING HERE: ANMON may be reached by flight to Haji Fisabilillah International Airport, or by ferry to Bandar Bentan Telani Ferry Terminal. 2-way complimentary transport is available for all ANMON guests, to/from Bandar Bentan Telani Ferry Terminal.
PRE-BOOK RELAXING IN-ROOM MASSAGES, FRESH KELONG DINNERS, AND A VARIETY OF TOURS AND ACTIVITIES TO EXPLORE THE BEST OF BINTAN.