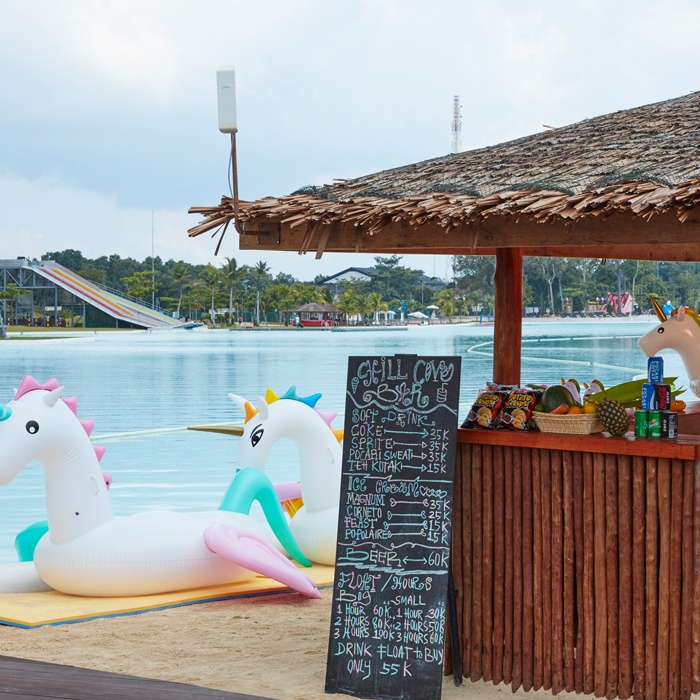 Your favourite playground where adventure, fun and friendship never ends!
Spanning over 90 hectares, Chill Cove at Treasure Bay Bintan is a vibrant, exhilarating social hub that surrounds 6.3-hectare Crystal Lagoon. The area is the designated 'happening' spot to celebrate beachside living and pulsating nightlife from sunrise to sunset suitable for the whole family.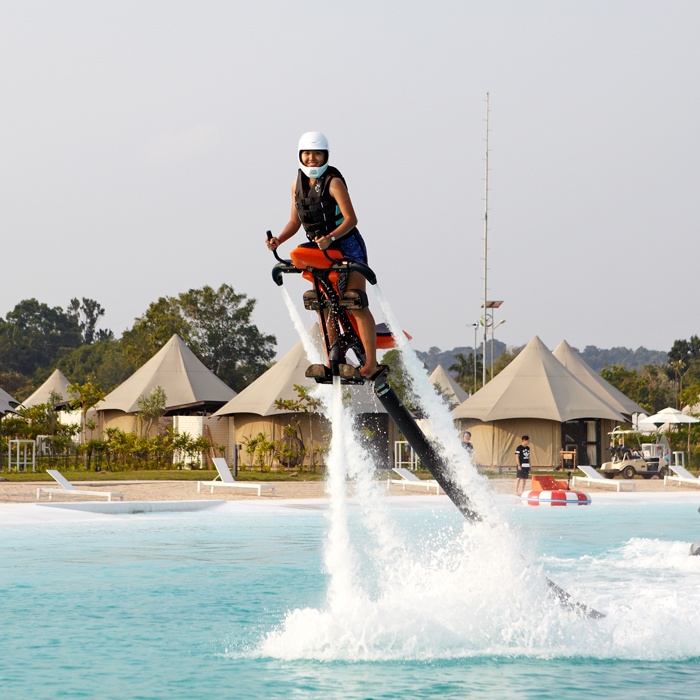 Crystal Lagoon
The 6.3 hectare Crystal Lagoon in Treasure Bay Bintan is South East Asia's first and largest recreational sea-water body that has undergone a process to make the sea-water "crystal clear". Besides being a
visual feast, it is an interactive pool of water sports, attractions and entertainment.  Even during the monsoon season, the lagoon is safe and perfectly swimmer-friendly and offers an alternative for those
who fear the rough sea or strong currents, rocks, jellyfish, or dark sand beaches.  The lagoon offers a wide range of recreational and interactive water activities suitable for the whole family such as swimming, kayaking, paddle boarding and sailing.
Fast Facts and figures about Crystal Lagoon
6.3 hectare (115,060m3 or 115,060,000 liters of water)
1st  and largest sea water Lagoon in South East Asia
2 Filters
Eco-Friendly technology, uses approximately 100 times less chemical products then conventional swimming pools
800 meters from one end to another (surface area is equivalent to 50 Olympic sized swimming pool)
2.5 meters deep, it is a gradual slope
Patented and available in 160 countries
Energy efficient ,consumes only 2% of the energy needed by conventional filtration pools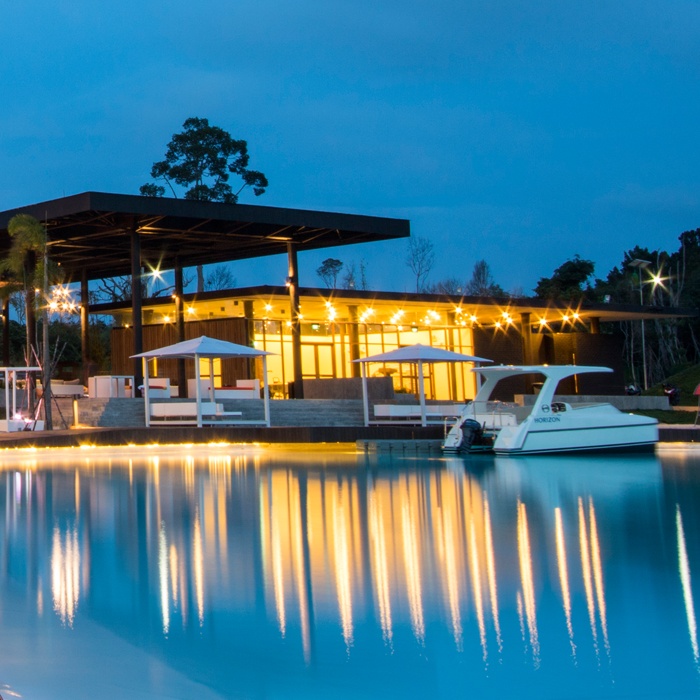 Main Entrance@ Chill Cove
The main entrance and the nerve center of Chill Cove. Apart from the ticketing counters, parking and customer service, the following is available here:
Food Stalls
Money Changer
Health Spa
Locker
Prayer Room
Convenient Store
First Aid
Restaurants
Style Warehouse
Taxi & Tours Service
Changing Room
Restroom
NiBBana Health Massage & Spa
Offering a range treatments like Body Massages, Scrubs, Foot Reflexology, Head and Shoulder Massages as well as Facials. Prices range from IDR142.500 (SGD15) to IDR427.500 (SGD45). Operating hours are from 10am to 9pm daily.
Hook on Seafood Grill and Bar
This popular local seafood restaurant located at The Trove is an extension of its original outlet "Kampoeng Kelong". Signature dishes here are its Garlic Fried Chicken and Grilled Seafood such as Gong-Gong, Crab, Fish and Lobster.  Operating Hours: 10am – 10pm daily
Local Food Stalls
Six food stalls offering an array of authentic local delicacies as well as international snacks and refreshments such as Ayam Penyet, Western Food, Dim Sum, Chicken Noodle and fresh coconut drink that will tantalise and please your taste buds. Operating Hours:  10.30am – 6.30pm; Saturday, Sunday & Public Holidays only. Snack, drinks and ice cream can also be bought at the Chill Cove Café. Operating Hours: 9am – 6pm daily
My Mart (Convenient Store)
The store sells a wide range of essentials such as confectionary, snacks, drinks, beer, toiletries,  and over the counter medication. Operating Hours: 9am – 5.30pm daily
Style Warehouse
An apparel boutique selling clothes as well as beach holiday essentials for the whole family, including sandals and sand play toys. Operating Hours: 10am – 8pm daily
Indo Bintan Tours
Indo Bintan Tours offer tours and taxi services around Bintan/Lagoi area for those who wish to explore more of this beautiful island. Operations Hours: 9.00am - 6.00pm
Recreation and Activitie
Guests can participate in a host activities: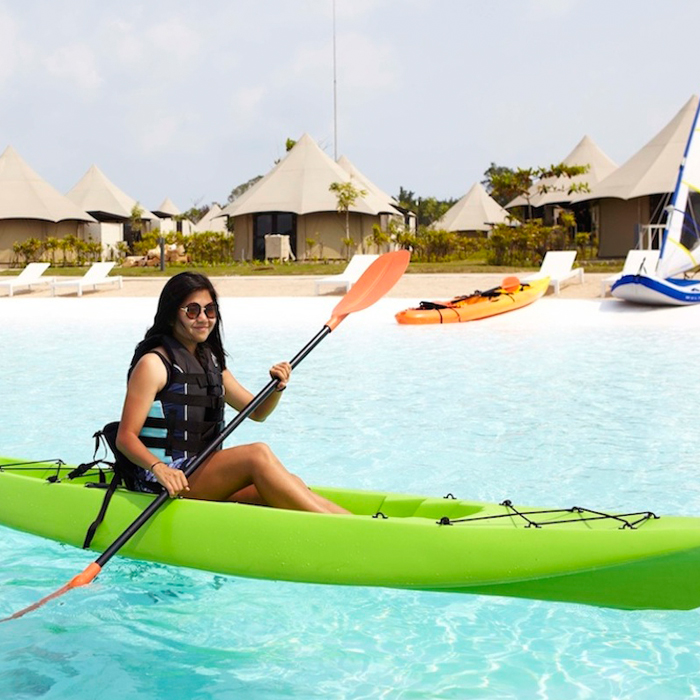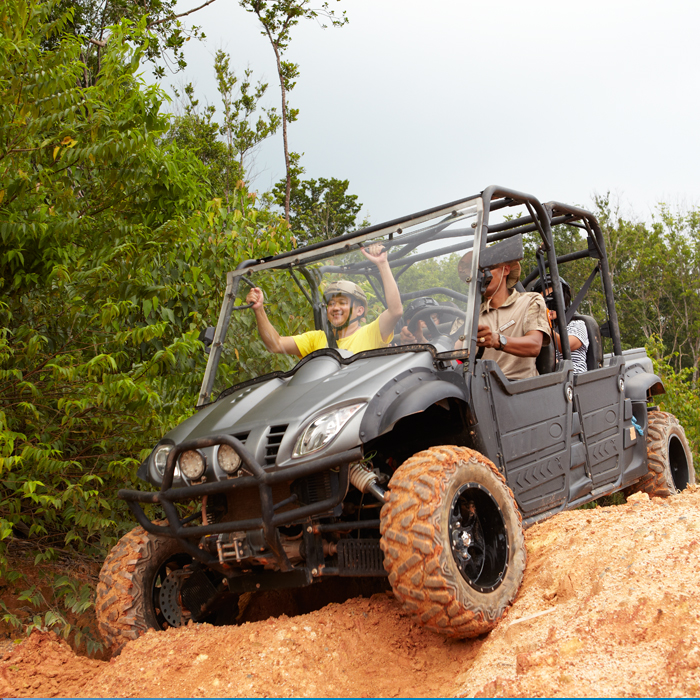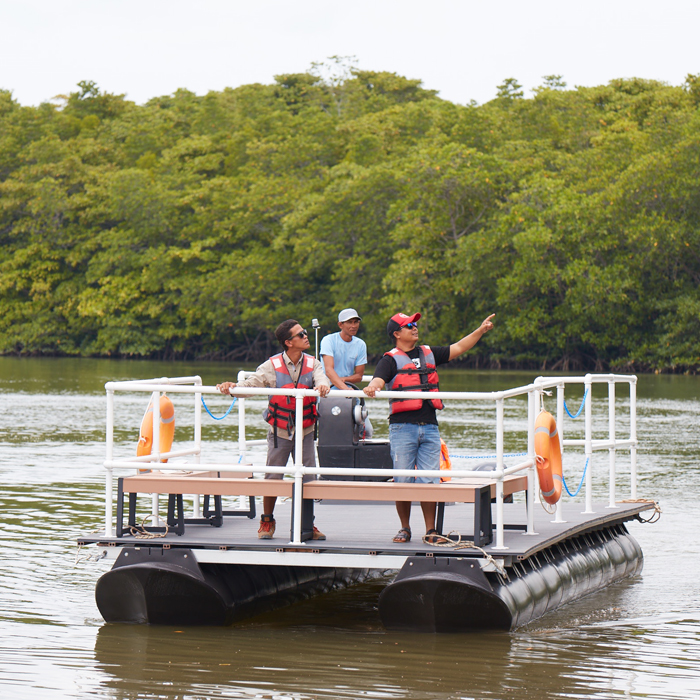 Fun park
Get tons of wholesome entertainment for kids to scale, cool down and have fun all day long
Bouncy Castle Slide features a four-metre tower and Slide. Anchored to the ground for safety and stability kids can safely let loose
Classic Car or Fun Buggy Ride -  a great way to explore the area with the whole family
Solar Boat Tour a great way to explore Crystal Lagoon for those who don't want to get wet 
Water Tricycle is the perfect water activity for families to explore the entire Crystal Lagoon leisurely.
Inflatable AdvanceFrame® Kayak is a hybrid of folding frame and inflatable kayaks that seats two.
Water ZOVB is an experience of walking on water in an inflatable clear ball.
Inflatable Bear Water Slide consists of a dry and wet play area and 43-metre long  slide with a wading knee-deep pool allows to clamber, cool down and have fun.
Electric Scooter is a great way to explore Crystal Lagoon! This electric jet propelled body board that allows riders to easy manoeuvre and propel through the water
Bumper Boat Add a splash of excitement as you race or bump your way across the water with the family
Stand-up Paddling - a safe water activity suitable for families of all ages. Each board holds two people. 
Aqua Glide Sail Boat Multi-Sport 270s is inflatable sailboat that converts easily from a windsurfer to a kayak and seats up to three people comfortably.
Airsoft Gun Designed to look just like a real firearm, enjoy hours of fun indoors, recreating 
X-Perience
Get wet and wild with water challenges suitable for adrenaline junkies with a passion for thrills and fun. 
Cable Ski Sesitec System 2.0 is perfect for beginners or advance riders to experience the fun and thrill of wakeboarding without a boat  as the two tower system with a cable  pulls riders from one tower to the other.
Slip and Slide This cushioned bumper ride adds a little creativity to the swim and fun for the whole family
Jetovator: One of the most exciting aerial water activities, the Jetovator is a water sports accessory that redirects water thrust to propel and elevate riders into mid-air.
X-Treme Adventure
Explore and engage with nature on ATVs (All Terrain Vehicles), UTVs, Electric Mini ATVs etc.
ATV Off-Road trains
Mini Electric ATV
Eco-Adventure
Observe the many species of wildlife and birds as you reconnect with nature and enjoy a quiet Kayak though the tranquil mangroves of Bintan. 
Mangrove Tours - Experience the private mangrove reserve while cruising through exotic rainforest plants and wildlife by kayak as part of a guided tour by ATV or UTVs.
Floating Pontoon - Suitable for Groups to enjoy the mangrove and firefly experience or for couple floating picnic or a romantic dinner for two.
After Dark
Plenty more to do even when the sun goes down. Make a wish with Sky Lanterns, take the Fire Fly Tour at the mangrove or ride along in the night Electronic Scooter Tour. Celebrate with Fireworks or reconnect over a BBQ dinner. Advance booking are required for these activities.
Firefly tour Enjoy a truly enchanting experience while cruising through the clam mangrove river
Fireworks - a perfect way to celebrate special occasions such as proposals, anniversaries and birthdays
Night scooter tour
Sky Lanterns - magnificent sight to behold.  It is both a spiritual, therapeutic and memorable expression.
Camp Fire
Marine Life Discovery Park
Opened on the 24th of October, 2019, Marine Life Discovery Park (MLDP) is a strategic project to complement the master development plan of Treasure Bay Bintan. 
The concept of MLDP is to showcase marine life species in a tropical habitat and to enable up-close interaction with this marine life in an open, yet safe and controlled immersive environment. 
Besides marine life, MLDP also exhibits other various wildlife such as birds, turtles, snakes and mangrove native flora and fauna to facilitate learning and appreciation of the ecosystem.