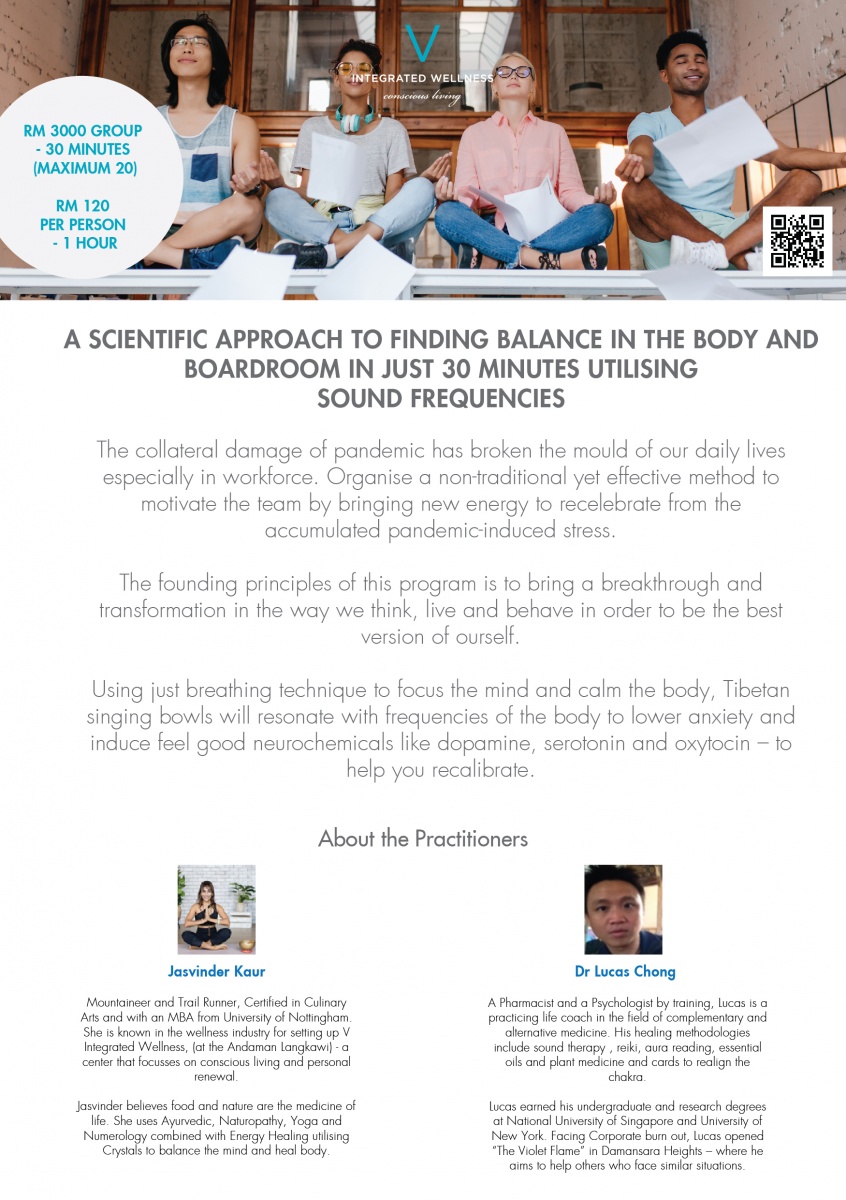 The collateral damage of pandemic has broken the mould of our daily lives especially in workforce. Organise a non-traditional yet effective method to motivate the team by bringing new energy to recelebrate from the accumulated pandemic-induced stress.
The founding principles of this program is to bring a breakthrough and transformation in the way we think, live and behave in order to be the best version of ourself.
Using just breathing technique to focus the mind and calm the body, Tibetan singing bowls will resonate with frequencies of the body to lower anxiety and induce feel good neurochemicals like dopamine, serotonin and oxytocin – to help you recalibrate.
About the practitioners 
Jasvinder Kaur - Mountaineer and Trail Runner, Certified in Culinary Arts and with an MBA from University of Nottingham. She is known in the wellness industry for setting up V Integrated Wellness, (at the Andaman Langkawi) - a center that focusses on conscious living and personal renewal. 
Jasvinder believes food and nature are the medicine of life. She uses Ayurvedic, Naturopathy, Yoga and Numerology combined with Energy Healing utilising Crystals to balance the mind and heal body.
Dr Lucas Chong  - A Pharmacist and a Psychologist by training, Lucas is a practicing life coach in the field of complementary and alternative medicine. His healing methodologies include sound therapy , reiki, aura reading, essential oils and plant medicine and cards to realign the chakra. 
Lucas earned his undergraduate and research degrees at National University of Singapore and University of New York. Facing Corporate burn out, Lucas opened "The Violet Flame" in Damansara Heights – where he aims to help others who face similar situations.

RM3000 Group - 30 minutes (Maximum 20)
RM120 Per Person - 1 hour